We can Help Stop Repossession
UK home repossession - We can buy your home for cash
Here is a brief description of what you need to be aware of regarding mortgage arrears and repossession. We are constantly updating this section to provide you with more details regarding the law. Please contact us if you are still unsure about what to do to stop a repossession.
What Are The Stages Involved in a Repossession Process?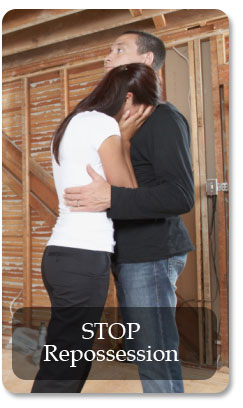 When you get into arrears and you fail to come to an arrangement with your mortgage lender, they will issue a court action. Anything from 2 to 6 months of arrears could result in the lenders proceeding with legal action and pursuing repossession of the property.
At the court hearing, if you could demonstrate your ability to meet the current monthly instalment and to pay a contribution towards the arrears, the judge will almost always suspend the Possession Order. If the judge is not satisfied you could meet the payments, or you couldn't promise to repay, a Possession Order will be made.
If a repossession order is made, the mortgage lender will submit a Possession Warrant to evict (typically 2-4 weeks later).
If, at court, you promised to keep up future payments but defaulted later, the mortgage lender will apply to the court for eviction. You will receive a date and time from the court informing you when you must leave.
What Are The Consequences Of Repossession?
If your property is repossessed, you are still liable for all ongoing costs that accrue until the lender sells your property. These costs typically include mortgage interest, legal fees, estate agents, etc. The lender will attempt to sell your property quickly to recover their money. They typically use auctions and estate agents to sell your property, often discounted to attract quick buyers. When the property is sold, the lender's account is cleared first. Any surplus will be repaid to you. However, if there is any shortfall, the lender will attempt to recover it from you for up to 12 years! (more on the consequences of property repossession).
Your mortgage lender will also provide credit agencies with your repossession details. This credit black listing is stored in your file for credit reference purposes for a period of 6 years.
How We Can Help
A quick purchase of your property to cover the mortgage account balance if you want to leave the property.
In time-sensitive situations where an eviction is very close we can stop a repossession by paying off your arrears immediately and arrange for the sale to proceed afterwards.
If you have a large amount of unsecured loans, we are also happy to negotiate, on your behalf, with the loan lenders to reduce the debts.
Contact Us - If you want a quick property sale
Simply fill in our 30 second enquiry form and we will contact you within 24 hours
You can also call FREE on:
0800 112 3340 or 0207 183 6789
(Lines open 24 hours a day, 7 days a week)