Selling a run-down, distressed or poor condition property for Cash
Avoid the uncertainty and unnecessary fees from estate agents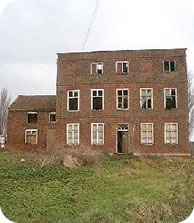 Do you have a property that is run-down, distressed or in poor condition? Would you like to release the capital tied up in your property quickly and easily? Of course you would!
When you have a property that is in need of work there are only an limited amount of options open to you as a seller. Selling though an estate agent usually involves a long selling process, and the types of people attracted to a property in poor condition will be very limited. Those who are interested will be so called 'investors' who want to buy your property at the lowest price possible. There is no guarantee that they can complete the purchase as many investors need to raise a 'buy-to-let' mortgage, which can take weeks or even months to arrange. Coupled by the fact that they could pull out of the sale at any time is not enough reassurance for many people who need to release the equity tied up in an unmodernised, run-down or distressed property.
Many houses in poor condition or that need cosmetic refurbishment end up in auctions. Listing a property in an auction is a lengthy process, as the auctioneer needs many weeks notice to list and market a property to potential viewers. Add to this the fact that if the property is sold, you will need to pay fees to the auctioneer, and the buyer has a further 4 weeks to complete the sale, and it can prove to be one alternative to of selling a property via the traditional route. Should you wish to consider taking your property to auction, but don't wish to incur fees and hassle, speak to us.
AC Investments are cash funded private investors who can buy your run-down or distressed property quickly. We will view your property in its current condition and present a firm cash offer within 24 hours. Our offers are based on the properties current condition, and there will be need for you to make any further improvements to the property. We provide you with a guaranteed hassle-free quick cash sale.
We buy mainly in London, the South East and the North West.
Call us now for free advice on how to get your property sold quickly for cash, or fill in our quick 30 second enquiry form to the right of the page.
Contact Us - If you want a quick property sale
Simply fill in our 30 second enquiry form and we will contact you within 24 hours
You can also call FREE on:
0800 112 3340 or 0207 183 6789
(Lines open 24 hours a day, 7 days a week)