Council/Ex-Local Authority Property Section 20 Notice? Sell Quickly for Cash
Sell your council or ex-la property if you have been issued a section 20 notice.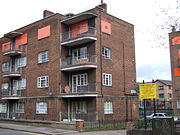 If you've been served, or are about to be served a section 20 notice by the council, it means that the council are planning to do some renovation work to your house, flat or block and require the residents to foot the bill. This bill (like all bills) usually comes at th e wrong time, but as you are probably aware with the council; they will get their money one way or another!
A section 20 notice is basically a piece of legislation entitling the council to charge leaseholders for essential renovation work on the council block or house. These costs can start from a couple thousand pounds to over £20,000 which can have a crippling effect on an individual's personal finances. Sometimes the only alternative for some is to sell their homes in order to pay the cost of the notice.
Many sellers experience problems when trying to sell their council flats or houses when there is even a chance that a section 20 notice might be issued. This usually results in sales falling though at the last minute, and buyers being completely put off by your property. This is something which cannot be hidden, as solicitors are able to inform all buyers whether a section 20 notice has, or will be issued on a ex-local authority property.
AC Investments provides a genuine solution and can buy your home if you have been issued a section 20 notice, leaving you with a quick, guaranteed sale of your council or ex-local authority flat or house and the surplus money in your account in weeks. Because we are a cash buyer, we do not need to raise a mortgage, and therefore do not need approval from lenders to purchase your flat or house. This enables us to move very swiftly to ensure a smooth and hassle-free sale for you.
Contact Us - If you want a quick property sale
Simply fill in our 30 second enquiry form and we will contact you within 24 hours
You can also call FREE on:
0800 112 3340 or 0207 183 6789
(Lines open 24 hours a day, 7 days a week)